Features
Product Overview
PodiumConnect MK2 has the following changes / improvements from the MK1:
* Ruggedized connectors compatible with the new plug and play standard Autosport labs system
* Improved and more durable (breakage resistant) cellular antenna
* Un-provisioned Verizon SIM included in the packaging for convenience, partnered with Wireless Zone (Eric Kaul) for customers needing USA connectivity.
* RS232 serial integration has been removed (dropping RaceTechnology DL1 support)
All other features are the same as the previous version of PodiumConnect.
Available configurations:
* AIM with M9 "Binder" SmartyCam connection
* Generic pigtail
* Motec DTM6
* VBox (special order)
Support for RaceTechnology DL1 has been dropped.
Description
Now you can live-stream telemetry from your AiM, MoTeC, or other data system
Live-stream your racing to Podium, the social network where you can do real-time analysis on engine, chassis, and driver performance. Share and compare your laps with crew, friends, race coaches, and fans around the world.
Compatible with AiM, MoTeC, and other data acquisition systems
Revolutionary Technology
Set your data free! Using cellular-based telemetry, PodiumConnect brings together different data systems in a powerful way. Easily compare laps between AiM, MoTeC, and other GPS-enabled data systems, all in the cloud, and in real-time.
Live-stream telemetry – for free!
High performance and super responsive
With PodiumConnect's on-board 4G LTE cellular for North America, Australia, UK, and most of EU – you'll get up to 10Hz streaming and fast response while viewing your telemetry. Amazing!
The built-in cellular works with many carriers worldwide, including:
| COUNTRY | CARRIER |
| --- | --- |
| USA | Verizon, AT&T, T-Mobile, FreedomPop |
| UK | Vodaphone, O2, Tesco, Three |
| EU | Vodaphone, Lycamobile |
| Australia | Telstra, Vodaphone |
| Canada | Rogers |
| Brazil | Claro, Vivo |
Powerful, instant analysis – no need to transfer files
Now you have no files to transfer and no data cables to connect: your data streams in real-time to Podium where it can be reviewed by race coaches, monitored by your pit crew, or broadcast to fans around the world, right now! Uncover what will make a difference in your driving or car performance during your race or practice, while still on track.
Powerful time-gap analysis
Compare laps in real time and see where on track you're falling behind or gaining time – race coaches will love the ability to tune the nut behind the wheel while the driver is on track – no need for off-line "data download" classrooms!
Compare your laps between friends and sessions
Regardless of the system your friends are using, you'll be able to compare lap times, sensors, GPS position, driving line and more using the powerful tools available on Podium – across many laps or just one:
Follow and be followed by your favorite racers
Follow other racers, view their laps, and get notified when they're on track. Then, compare their laps to yours. What are their racing secrets?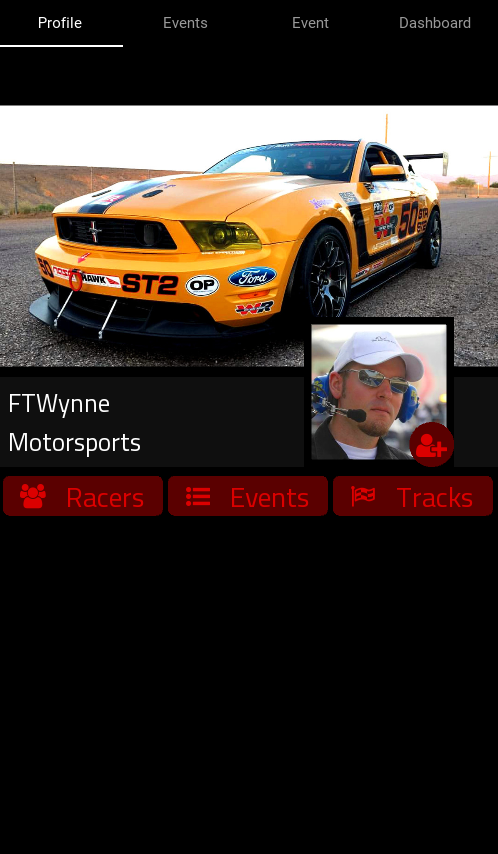 Claim the top lap time at your favorite race track
See who else is running at your favorite tracks. Compare the laps they've shared and see where you stack up!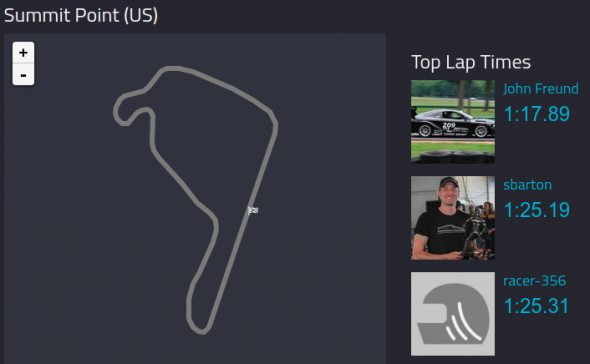 Add an auxiliary dash
Use the powerful RaceCapture app to create a secondary dashboard to show additional sensor data, plus enable pit-to-car alerts*!
Download the RaceCapture app from Google Play, iTunes or the Amazon app store.
Supplemental Gauges
Customize the dashboard screen to show custom gauges and advanced visualizations, including a tire temperature heatmap!
Pit-to-car alerts
Enable pit-to-car alerts* to get the attention of your driver. Great for endurance racing!
Stream up to 100 sensor channels
Two CAN 2.0 compliant busses let you connect your compatible AiM or MoTeC or other system, in addition to any sensor network you have on your race car.
If it's CAN enabled, we can read it! Here are some examples:
High performance GPS from your existing data system
G-forces and gyro data from your existing data system
Calculated predictive lap times
Multi-zone tire temperature sensors
TPMS sensors
Engine sensors such as oil pressure, engine temperature, RPM, throttle position, and more
Thermocouple arrays
Aero / Strain gauges
Ride height sensors
Driver input such as steering angle and brake pressure
Bio-sensors such as heart rate and body temperature
Easy to use presets
It's simple to map CAN channels from data systems such as AiM, MoTeC and others, or map high performance ECUs such as AEM, Hondata, Emtron, Haltech, PE3, Link G4, Megasquirt and more. Or, connect to OBDII and OEM CAN bus networks like the BMW E46 or Porsche – all at the touch of a button.
No CAN bus? If your system streams data over RS232, like the RaceTechnology DL1 and DL2, we can connect to that as well.
Compatible with AiM

PodiumConnect works with your GPS-enabled Smarty Cam compatible AIM systems, including:
MXL/ MXL2 Dashboards
MGX, MXS Dashboards
EVO4/5 Loggers
Solo2 DL
AiM Pista dashboards
…and more! Plug right into your data hub with the included cable and live-stream GPS, G-forces, lap times, engine sensors and more.
Compatible with MoTeC

PodiumConnect works with nearly every MoTeC dash, logger and ECU, including:
ADL dash / logger displays
M8XX/M1XX series ECUs
C series and D-Series dashboards
Simply connect two wires, select a pre-set CAN bus configuration and you're good to go – live-stream GPS, G-forces, lap times, engine sensors and more.
Got a different system? Talk to us – it will likely work!
If it supports broadcasting GPS + sensor data over CAN or RS232, PodiumConnect can handle it. Just tell us what you have and we can help.
No data system?
If you don't have a data system – good news, we have you covered: Check out the RaceCapture line of full-featured telemetry systems!
Additional Capabilities
WiFi connectivity
Configure and manage without connecting a cable: PodiumConnect is equipped with WiFi connectivity for wireless management and configuration.
GoPro Camera Control
PodiumConnect can control a WiFi-enabled GoPro camera, triggering it from one of your data channels – like Speed or RPM – automatically starting your camera when you're ready to race.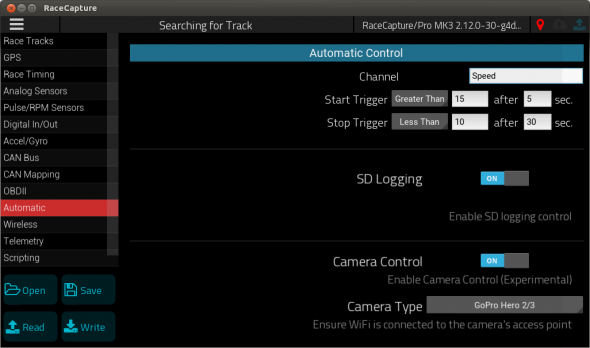 More cameras will be supported in the future, such as models from Sony and the Xiaomi Yi.
Local SD logging
An SD card slot is provided for local data recording – great for importing into external analysis and visualization tools like RaceRender and more.
Compact, lightweight and rugged
At only 85 x 85 x 36mm (3.35 x 3.35 x 1.41in) and 170g (6oz) it's easy to install and conserves precious weight.
Comprehensive status indicators
Indicators for WiFi, Telemetry, CAN and Serial communications are provided on the front for quick status at a glance.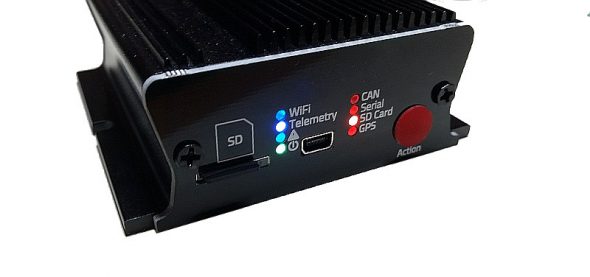 Just one cable to connect to your data system
It's easy to set up. Just:
Connect one cable to your existing data system
Mount the included antenna
Insert your SIM card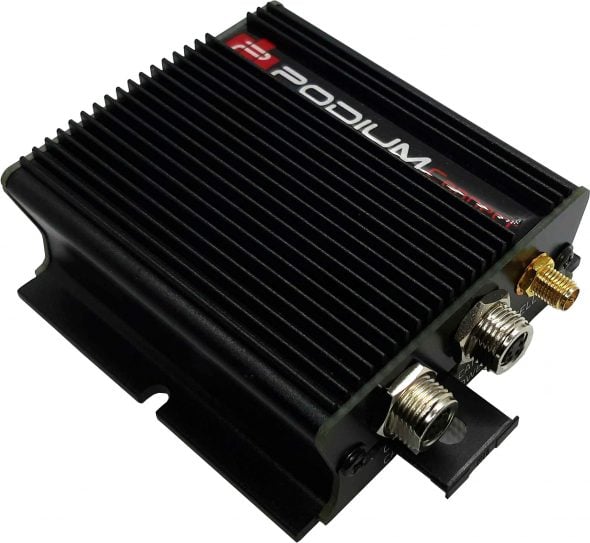 Full Specifications
Features marked with * will be available Winter 2018
Analog Inputs
Channels
1 (Battery Voltage, Internally connected (0-20v))
CAN Bus
CAN Channels
2
CAN baud rate
125K, 250K, 500K, 1M Baud
CAN filters
14 per channel
Protocol Support
OBDII PID, custom CAN mapping
CAN Bus
CAN 2.0 compatible, 1M baud
CAN termination
Software controlled
CAN channels supported
100
Cellular Telemetry (Optional)
Cellular
4G LTE worldwide-compatible (North America) 3.5G (Europe and UK)
Maximum Sample Rate
10Hz (1/5/10Hz supported)
Wireless
WiFi
802.11bgn
WiFi Modes
Access Point, Infrastructure
Maximum Sample Rate (dashboard link)
50Hz
Storage
Micro SD
Up to 32GB (SDHC)
Maximum Sample Rate
100Hz
Predictive Lap Timing
Built-in
Track Mapping
Circut and point-point
Track maps
200 built in for autonomous auto-detection
Sectors per track
20
Analysis
Included in the RaceCapture App, and on Podium
Export data format
Plain CSV (RaceRender compatible)
Scripting / Customization
Real-time virtual (math) channels / custom channel mapping
Via on-board Lua scripting
Virtual Channels
100
Physical
Dimensions
85 x 85 x 36mm (3.35 x 3.35 x 1.41in)
Temperature range
0 to 65c
Environmental
IP50 rated
Weight
170g (6 oz)
Physical
M8 Connector, 4 pins (CAN1 and power)
M8 Connector, 6 pins (CAN1, CAN2)
RP-SMA for cellular antenna
Power Consumption (max)
Main System: 0.6W
With Wireless: 1.6W
With Cellular Telemetry: 8.6W
With Cellular Telemetry and Wireless active: 9.6W
Notice
AiM, MoTeC, and GoPro are trademarks or registered trademarks of their respective holders. Any references to these trademarks does not imply any affiliation or endorsement.
Reviews